About
What is the meaning of MEAN? MEAN is Music. MEAN is Entertainment. MEAN is Art. MEAN is News.
MEAN is a comprehensive media brand which has transcended its origins as a popular American bi-monthly magazine, to become a content creator in its own right, producing original web and television series for cultural giants like Microsoft and MTV which attract a global audience.
In its earliest days, MEAN began as a zine obsessed with the latest in pop culture, focusing on trailblazers in the fields of fashion, art and cinema, and on the influences that made them great.
MEAN soon took off, and grew to become a high-end entertainment and lifestyle magazine appealing to urban trendsetters between the ages of 21 and 36. Published by Kashy Khaledi Media and distributed by Curtis Circulation (Maxim, TV Guide) MEAN featured a broad assortment of prominent creative personalities on its covers, ranging from John Krasinski to Samuel L. Jackson, from Javier Bardem to Ewan McGregor portraying Woody Allen.
In all its diversity, MEAN has always held one truth as law: Originality, in any form, bursts any barriers of classification, age, gender and race. Pushing this notion a step further, MEAN's conceptual photography habitually mingled age, era and style.

MEAN gained a reputation for exploring subjects that transformed pop culture, ranging from the Straight Edge movement led by punk rock icon Ian Mackaye, to Milton Berle's Friar's Club, the Hollywood Round Table that made risqué celebrity roasts famous. It also dared to devote 30 + page articles to the lives of history-making heroes such as Andy Kaufman, Fela Kuti and Peter Sellers, jump-starting mainstream interest in each.
In 2008, a simple experiment led to an explosive evolution in the meaning of MEAN: it decided to film its always creative and high-production-value photo essays as short-form videos for the September issue.
In one of the videos, Sir Ben Kingsley portrayed Minor Threat frontman Ian MacKaye, in a gritty recreation of the band's legendary, riot-inducing underground shows. The video became a global phenomenon. Britain's The Guardian remarked, "Prepare to have everything you ever thought about the world turned upside down – here's Oscar-winning actor Sir Ben Kingsley in a tribute to Minor Threat. No wonder bloggers around the world are conjuring up acronyms that go beyond WTF."
This success quickly led to a production deal with Microsoft to create a series of comedic shorts entitled "Cinemash", which took contemporary actors and placed them in classic scenes from cult movies. "Cinemash" launched in July 2009 on MSN, Zune and XBOX to millions of viewers worldwide.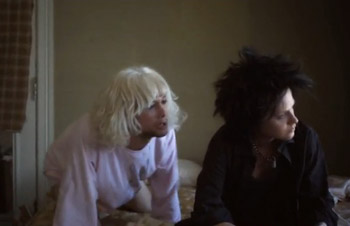 In the inaugural episode, 500 Days of Summer actors Joseph Gordon-Levitt and Zooey Deschanel recreated a scene from Sid and Nancy helmed by director Marc Webb. Subsequent episodes mashed up Channing Tatum and Charlyne Yi in an over-the-top dance sequence from Dirty Dancing, and brought together Cheech and Chong for their first on-screen appearance in decades in a hilarious, visually stunning lightcycle race from Tron.
"Cinemash" was everywhere during the summer of 2009 – from CBS's "The Early Show" to MTV's "It's On With Alexa Chung." More recently,  "Cinemash" was featured on the 500 Days of Summer Blu-ray release.
It was the beginning of a new era for MEAN, and time to put the print magazine on hold to focus on bringing the long-standing MEAN values of originality and vision in popular culture to creating content for new media and television outlets.
In January 2009, MEAN began production on a series for MTV – "MEAN's Supervideo" – which melds actors from upcoming movies to new music in an original music video. "MEAN's Supervideo" is set to launch in the summer of 2010.